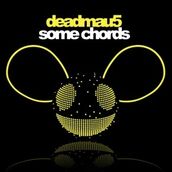 "
Some Chords
" is the name of a song from Canadian electronic music producer,
Deadmau5
.
"Some Chords" was included in the track listing for Deadmau5's fifth full-length studio album, 4x4=12, and was later released as the album's first single on December 6th, 2010.
"Some Chords would also later be used in an episode of "CSI" called "Pool Shark".
Music Video
Edit
As it was released as a single, it was decided that the release of "Some Chords" should be accompanied by a music video. As such, Deadmau5 held a competition for his fans to develop the music video for "Some Chords" using Wooshii. After close to two weeks the contest ended, leaving Deadmau5 to make a decision from close to 80 submissions.
Ultimately, Deadmau5 chose a video that had been written and directed by Chris Lee, produced by "Pommez Films" and starring Joe Garcia, as a character named Tom, who has a warped snare drum for a head. The video opens on Tom, walking into a convenience store and looking over some orange juice and other merchandise. Once finished, Tom brings the products to the counter, where he receives strange looks from the store clerk based on his odd appearance. After leaving the store, Tom finds himself rather distracted by some birds flying over top of him, until he eventually comes across a dog that has been tied to a post. The dog barks viciously at Tom, and so Tom retreats into a nearby parking garage. Here, Tom finds a man smoking alone. When the man starts approaching Tom, Tom drops his groceries and runs in fear. Ascending the parking garage, Tom breaks down in frustration because of all the flack he gets based on his appearance. This leads Tom to decide to forget his problems and start dancing alone in the parking garage
Ad blocker interference detected!
Wikia is a free-to-use site that makes money from advertising. We have a modified experience for viewers using ad blockers

Wikia is not accessible if you've made further modifications. Remove the custom ad blocker rule(s) and the page will load as expected.