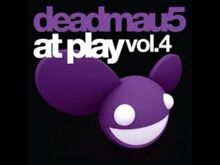 At Play, Vol. 4 is a compilation album from the Canadian progressive house musician deadmau5 and the fourth of the At Play series. Like the other "At Play" albums, this installment contains tracks previously released on the 2006 album Vexillology and the 2007 EP Full Circle.
At Play, Vol. 4 also includes the track "GH", which was "created in the days before Random Album Title." The track also reuses a sample from the track "Sometimes I Fail". Like with At Play Vol. 3, deadmau5 claims to have nothing to do with this volume of At Play. The track "1891 [Minimal Remix]" from "Full Circle" is renamed to "1891" on this album. It was released on November 5th, 2012 globally, and features two collaborations with Billy Newton-Davis and Melleefresh. Not including dirty title.
Track list
Edit
I Like Your Music (feat. Billy Newton-Davis) - length: 3:40
1891 - length: 5:54
GH - length: 6:15
Tau V1 - length: 8:01
Point Vanishes - length: 7:02
Trepid - length: 7:07
Fustercluck - length: 4:52
Lies, Audiotape (redux mix) - length: 7:00
Subvert - length: 5:52
Something Inside Me (Electro Mix - with Melleefresh) - length: 5:44
Ad blocker interference detected!
Wikia is a free-to-use site that makes money from advertising. We have a modified experience for viewers using ad blockers

Wikia is not accessible if you've made further modifications. Remove the custom ad blocker rule(s) and the page will load as expected.