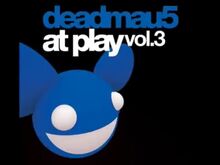 At Play, Vol. 3 is a compilation album from the Canadian progressive house musician deadmau5 and the third of the At Play series. Like the previous At Play albums, this album consists of "10 Full Length DJ Friendly Tracks" as it says on the sleeve. It was released on June 14th, 2010 in the UK and on June 29th, 2010 globally. Half of the tracks are from his 2006 album Vexillology and the last two are singles from 2007. The tracks "Cyclic Redundancy" and "Templar" were previously released on the 2007 EP Full Circle. However, deadmau5 himself claims to have had "nothing to do" with the album's release. It also features a single collaboration with Melleefresh.
>tracklist goes here<
Cyclic Redundancy
Apply Overnight
Plus
Lai
TL7
Bounce
Full Bloom
Templar
Stereo Fidelity
Whispers (deadmau5 remix - with Melleefresh)
Ad blocker interference detected!
Wikia is a free-to-use site that makes money from advertising. We have a modified experience for viewers using ad blockers

Wikia is not accessible if you've made further modifications. Remove the custom ad blocker rule(s) and the page will load as expected.