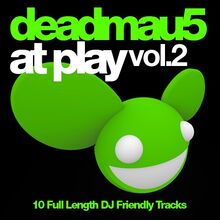 At Play, Vol. 2 is a compilation album from the progressive house artist deadmau5, following from the success of the first At Play album. The album features ten "DJ friendly" tracks. Released on November 17th, 2009, the album features numerous collaborations including Billy Newton-Davis, Melleefresh and Steve Duda. Not including dirty titles.
>tracklist goes here<
Outta My Life (Touch mix) (with Billy Newton-Davis)
Attention (with Melleefresh)
Mr. G
Reduction
This Is Also The Hook (BSOD)
Orca
Tau V2
Slave (with Melleefresh)
This Noise
R My Dreams (with Billy Newton-Davis)
Ad blocker interference detected!
Wikia is a free-to-use site that makes money from advertising. We have a modified experience for viewers using ad blockers

Wikia is not accessible if you've made further modifications. Remove the custom ad blocker rule(s) and the page will load as expected.